Digital marketing is continuously on the rise and businesses are trying to utilize it. Although digital marketing offers brand exposure, for businesses, generating revenue is the primary focus.
For this, marketers are emphasizing ROI driven digital marketing. They want to know whether their strategies are bringing fruit and generating revenue.
But the question is How to improve digital marketing ROI with minimum effort?
In case you are unaware of the term ROI, it represents the total "return on investment." Businesses incorporate ROI strategies in digital marketing to ensure maximum returns and meet their marketing goals.
This guide will help you understand how to build ROI driven digital marketing. Gut first, let's understand what digital marketing ROI represents and how you can calculate it.
What Is Digital Marketing ROI?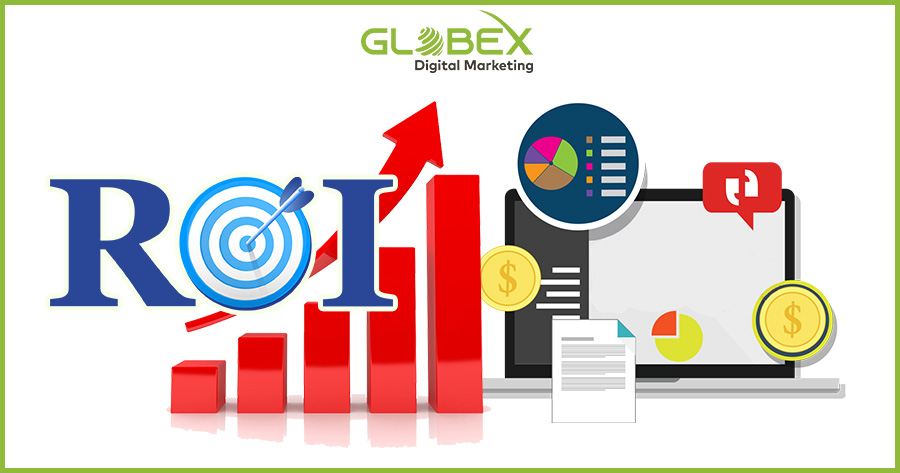 Digital marketing ROI is the process of measuring the efficiency of your digital campaigns. In simple terms, it is the evaluation of investment and whether you are getting something in return.
If you have a positive ROI, it means your brand is earning more than spending.
ROI driven marketing helps you assess the profitability and loss of all your online campaigns. You can evaluate the efficiency of a campaign or measure the efficiency of different digital campaigns. 
Why Measure ROI in Digital Marketing?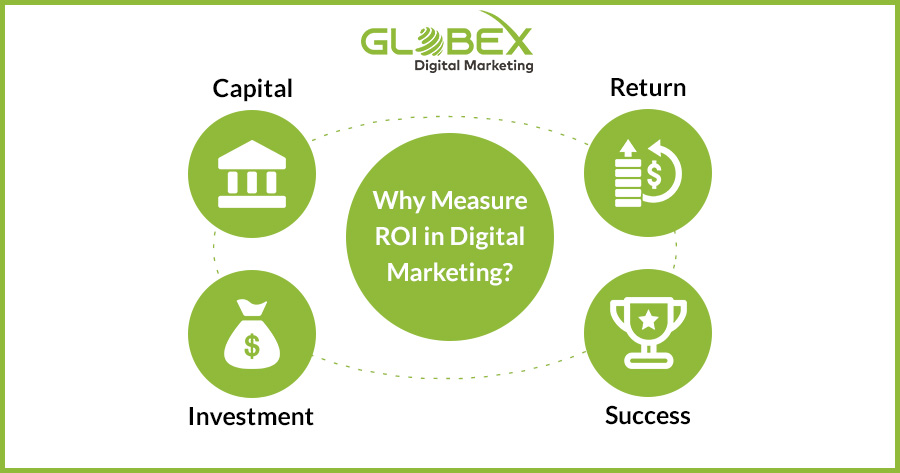 From a marketing perspective, the main goal of every campaign is to get the full value of your spending. This is where ROI driven digital marketing comes in handy.
Measuring ROI in digital marketing tells you whether you are getting results.
An ROI driven marketing strategy saves both your time and budget. When you measure ROI, you get to know
Which strategy is working 
Which digital marketing channel is more profitable 
Moreover, measuring ROI helps you
Improve your campaign 
Remove what's not working
In simple words, measuring ROI can boost the chances of your digital marketing success. Instead of spending your resources and time blindly, you can work on digital strategies that actually work. With a careful analysis, you can take actionable steps to improve returns.
What Is a Good ROI for Digital Marketing?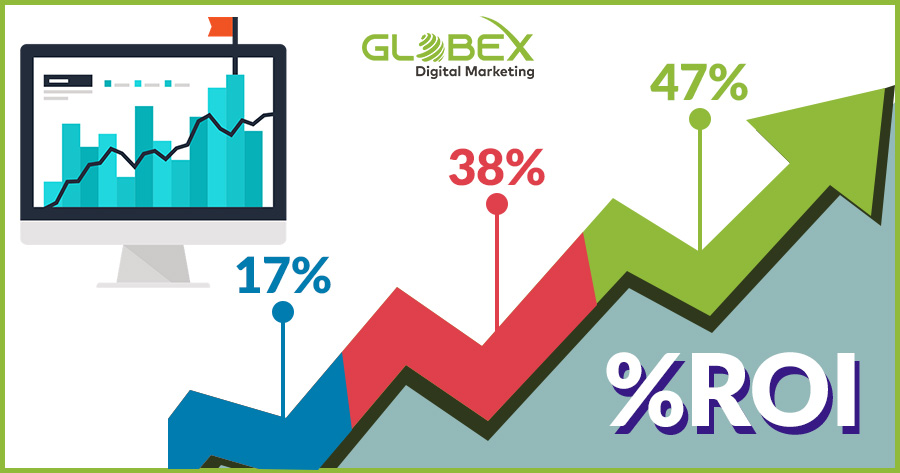 The goal of ROI driven digital marketing is to get more value than you are spending. However, a "good ROI for digital marketing" depends on a number of factors. These include
Your industry 
Marketing channels
Type of marketing strategies
An average ROI for digital marketing normally pays five times your budget i.e. 5:1. This means for every $1 spent your business gets a $5 gain. A ratio of 10:1 is considered the best ROI in digital marketing.
According to experts, anything above a 2:1 ratio is a good ROI for digital marketing. This is a value that usually covers the break-even point.
How to Calculate Digital Marketing ROI?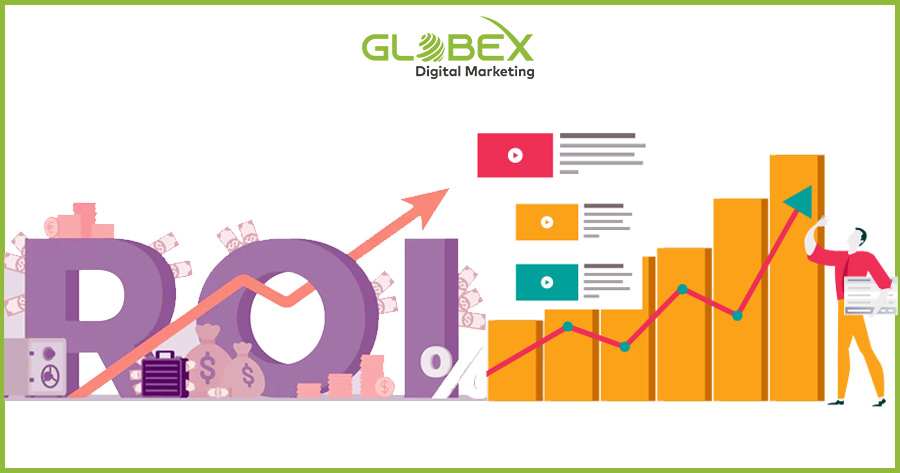 It takes practice and numbers to calculate digital marketing ROI. If you don't know how to measure digital marketing ROI, there's a basic formula.

Now let's identify the values that you'll need to calculate digital marketing.
Cost or Ad Spend
This includes the total cost that your brand is spending on digital marketing. Start with calculating the hourly cost of your team who is working on the campaign. Then consider the cost of producing content (text or visual) and the advertising spending.
Average Sales Price
This is the average price of your product or service including discount offers. So, if you change pricing or distribute coupons, consider the average sales price.
Number of Leads
It's the numerical value of total leads that you get through digital marketing.
Lead-to-Customer Rate
Measuring the lead to customer ratio is crucial if you want to calculate digital marketing ROI. These are the leads that bought your service or product and became customers.
For instance, if you got 100 leads and 10 of them turned into customers, your lead-to-customer rate would be 10%.
Measuring Digital Marketing ROI Metrics
There are some key performance indicators (KPIs) to measure digital marketing ROI. These include B2C and B2B digital marketing metrics.
Raise brand awareness
Generate social shares
Generate more traffic
Improve search rankings 
Drive email subscriptions
Types of Digital Marketing Strategies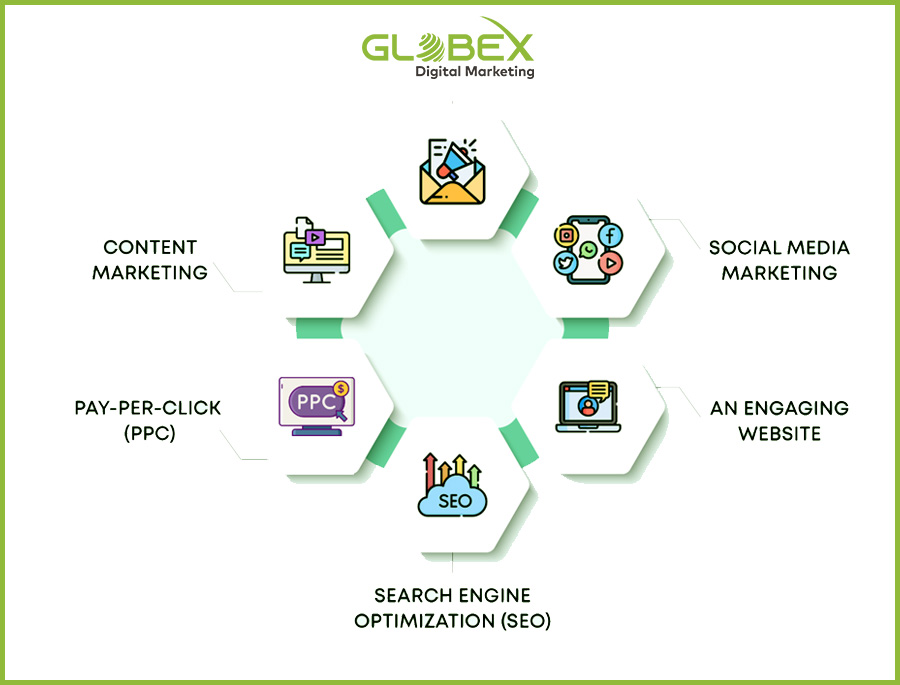 Now that you know how to calculate digital marketing ROI, it's time to explore top digital marketing channels. There are five main types of digital marketing channels known for good ROI.
These include:
Content Marketing
Search Engine Optimization (SEO)
Pay Per Click (PPC)
Email Marketing
Social Media Marketing
You should know which platform offers the best ROI in digital marketing. Below is the list of most effective digital marketing techniques according to marketers.
Source: statista.com
Let's explore these in detail to find out which strategy is good for which purpose. We have evaluated the advantages and drawbacks of each digital marketing strategy.
This will help you find the best ROI driven digital marketing strategy for your business.
Content Marketing
Content creation takes time, but it still costs less than visuals. Plus, written content tops the chart when it comes to ROI driven digital marketing.
According to HubSpot's marketing report, 82% of companies reported positive ROI when they used content marketing.
The cost of content marketing depends on the time it takes to create content. In addition, you must consider the production cost, as well as the time and money spent on promoting it.
Search Engine Optimization (SEO)
SEO is, without any doubt, one of the best ROI driven digital marketing channels. For online growth, it is a low-cost solution that can deliver consistent results.
This is a marketing channel that works for all types of businesses. Even for eCommerce, SEO delivers a healthy return over investment (ROI).

Source: webfx.com
What makes SEO tick is that it offers long-term results. Websites can continue to grow over the years while delivering positive ROI. Plus, it drives organic traffic to your website which means quality leads and more sales.
For these reasons, we consider SEO to be one of the top ROI driven marketing strategies.
Email Marketing
Email marketing is reported as one of the highest ROI digital marketing strategies. It's a direct marketing method that requires some investment both in terms of time and cash.
However, email marketing offers a high success rate when it comes to brand exposure and lead generation.
Studies have shown that email marketing delivers the best ROI as a direct marketing channel.
Source: statista.com
It's no wonder why this is one of the best ROI driven digital marketing strategies
 Compared to other methods, creating lists and sending out emails is relatively time saving and cost-effective. Plus, its ROI continues to grow as your email list and audience expands.

Tips for building a sizable contact list include using subscription incentives, sign-up lists. You can also gather data by enabling visitors to create on-site accounts.
There are certain factors to keep in mind for email marketing. When you are going to run an email campaign, you should consider measuring the below metrics.
Email open rate
Bounce rate
Conversions
Click-through rate (CTR)
Leads acquired
Unsubscribe rate
The primary drawback of email marketing is that you need a substantial database of customer emails. So, it's wise to use email marketing in conjunction with other digital marketing strategies.
Social Media Marketing
Social media marketing is another effective digital marketing channel with good ROI. You can get good returns without spending a huge amount of time or budget. 
Source: gurujistudy.com
Social media marketing offers several valuable benefits that affect the overall ROI. The ROI driven digital marketing help you:
Reach a new audience
Interact with consumers
Provide customer support and engagement
Increase brand awareness
strengthen overall marketing strategy
However, measuring social media ROI is a bit more complex than others. You have to measure specific metrics in social media marketing to determine campaign effectiveness.
Below are the top ROI metrics that a marketer will have to consider for social media marketing.
Engagement rates
New followers
Click-through rate (CTR)
Leads acquired
Conversions
Below is the list of top Social media platforms with the largest ROI according to marketers.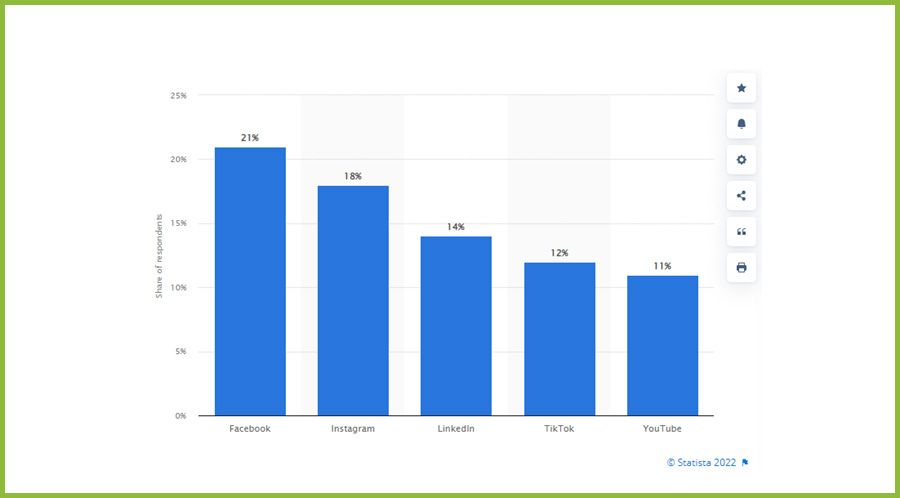 Source: statista.com
Facebook wins the race with the highest return on investment (ROI). It was ranked first by 21 percent of global marketers for both B2B and B2C businesses.
PPC Marketing
If done right, PPC services can deliver and generate a positive ROI in digital marketing.
Return on ad spend (ROAS) is much simpler to calculate than overall ROI for PPC campaigns. The formula is the same as the ROI formula.
Source: adkonversion.com
This value, however, does not include all costs, but the cost of the paid ads.  You have to factor in some additional costs for a more precise estimate. These include:
Employee salaries
Processing fees
Also, unlike search engine optimization (SEO), PPC advertising is not long-term. It ends once your funds are depleted and the ads will turn off. You will only reap the benefits and get sales as long as ads are running.
Which Digital Marketing Strategy Has the Best ROI?
It's hard to say which digital marketing has the best ROI. This is because each is used for various reasons and every industry requires a different treatment and has different needs.
Below is a chart representing the best digital marketing strategies for different goals.
| | |
| --- | --- |
| Marketing Goal | Digital Marketing Channel |
| Increase brand awareness | PPC, social media marketing |
| Generate more traffic | SEO, social media marketing |
| Improve search rankings | Search Engine Optimization (SEO) |
| Generate leads | Email Marketing and PPC |
If we consider the long-term benefits, both SEO and email marketing offer the best digital marketing ROI. However, content marketing is also an effective strategy that can get you good results.
For businesses and eCommerce stores, PPC and social media marketing deliver the best results. These two digital marketing strategies offer a positive ROI as paid marketing channels.
Source: neilpatel.com
So, it all depends on your business needs and how quickly you want to see results. We recommend you maximize the ROI by running multiple online marketing campaigns.
You can run PPC, do email marketing, and can also spend on SMM campaigns. But don't forget to include content marketing and SEO if you want long-term returns.
You can read more about the best digital marketing strategies.
Tips for Improving Marketing ROI
Now that you know what ROI driven digital marketing is, let's explore how you can boost it.
It's time to apply the insights to ace your marketing efforts and get better ROI. We have a few important tips that will help you improve your digital marketing ROI.
Establish Clear Goals
Before you decide to go on with a digital marketing strategy, establish your goals. It's essential to establish clear goals beforehand and know which external factors will affect the results.
Most marketers use "Marketing Return on Investment" or ROMI) metrics. It helps marketers in measuring the return on their investments by factoring in external elements.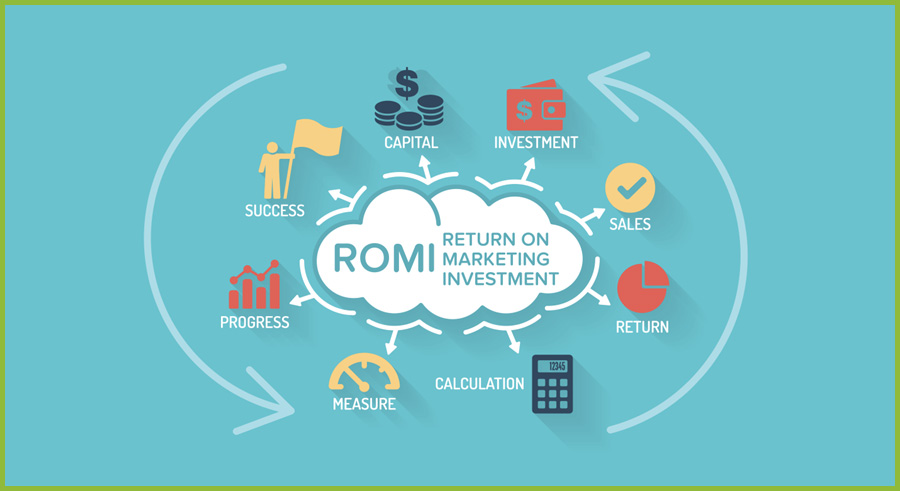 Source: mojomedialabs.com
This term uncovers the notion that there can be more to a campaign than just ROI. The ROMI formula helps you evaluate which digital marketing strategy is good for your business.

Source: www.dashly.io
The sole purpose of the ROMI is to assess how investments in marketing affect your revenue. After considering all digital marketing channels, you can prepare a profitable strategy.
Determine Marketing Costs
To formulate successful marketing ROI measurement strategies, you should determine marketing costs. This includes agency fees, employee salaries, creative development, and other expenses. 
This will help you decide what metrics to include and which strategy to follow for a better ROI. 
Use Marketing Analytics Platform
Organizations and marketers often underutilize the analytics platforms when it comes to digital marketing. Analytics and data are the keys to formulating a successful strategy.
According to Forbes, almost half of the digital marketers utilize data for ROI driven digital marketing.
So, you should leverage data and analytics to get the most out of your efforts. Use data while establishing goals and measure analytics to see how your strategy performed.
You can use data from previous campaigns to plan a good ROI driven digital marketing strategy.
Takeaway Words
ROI driven digital marketing helps you get the most out of your marketing campaigns. It tells whether you are using your marketing budget effectively and which platform is most suitable.
But to incorporate ROI strategies in digital marketing, you must establish your goals first. This will help you put your best foot forward and let you pick the right digital marketing channel.