Much of human activity has shifted to virtual space with the help of technology. That said, to grow any business, it must exist online. In fact, the physical existence of a business doesn't matter as much as having a strong online presence.
To grow your business online (and offline) and market your business, you must wonder what kind of digital marketing tools for startups you should be using on your website. Using the right digital marketing tools will make it easier to connect with your target audience.
Boosting the online presence of your business isn't as easy as it might sound – you need to stay on top of different digital marketing tools for startups and integrate them successfully into your business strategy. With the right digital marketing tools, you will succeed at doing the following:
Generate remarkable content ideas.
Assess your website's search rankings.
Remove unnecessary links.
Build useful links.
Analyze high-ranking keywords.
Obtain technical SEO successfully.
Here is the list of 17 digital marketing tools for startups to help you better manage, scale, and streamline your online business.
1. Title Generator
It is quite normal to run out of content ideas – or you might need some inspiration in terms of blog/ article titles or YouTube video titles. Whatever it is, you can immensely benefit from the tool known as title generator.
With the help of this amazing tool, you can generate up to seven hundred headlines with a single click. All you need to do is to enter the keyword in the required field and proceed to click on the option of "get headlines."
In just a few seconds, you will have seven hundred headline titles for content ideas. It is important to mention that some of the titles won't be perfect and unsuitable for your content – but they will certainly give you some inspiration and direction.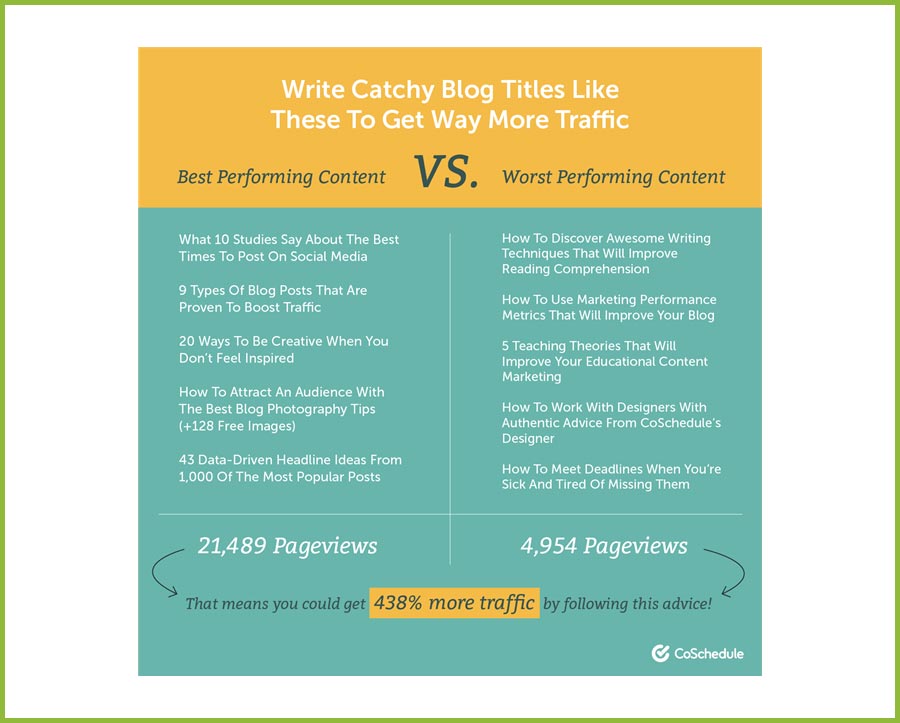 Source: coschedule.com
2. Hemingway
The Hemingway tool will be handy if you write any piece of content – whether that be guest posts, articles, Instagram captions, or anything. If you have been using Grammarly – you will find many similarities. However, Hemingway might not be as advanced.
All you need to do is go to hemingwayapp.com and start writing and benefit from the actual writing editor tool. This is certainly one of the must have digital marketing tools for startups.
However, if you want to write without any distractions, click on write – the option which you will find on the upper right side of the screen. You won't get any of those highlights by clicking on this option.
Once you have completed writing your piece of content, click on edit, and then you will be able to see the readability score, the grade, the word count, and potential mistakes.
In a nutshell, the highlights are generated by the Hemingway tool. The yellow highlights indicate that the highlighted content is quite wordy, so you can shorten this. Anything highlighted in red indicates that it is quite dense and hard to comprehend and read.
Any purple highlights indicate the use of complicated and technical words.
Adverbs highlighted in blue and green highlights mean that the highlighted content is worded in passive voice. Hemingway is also available for macOS and Windows systems.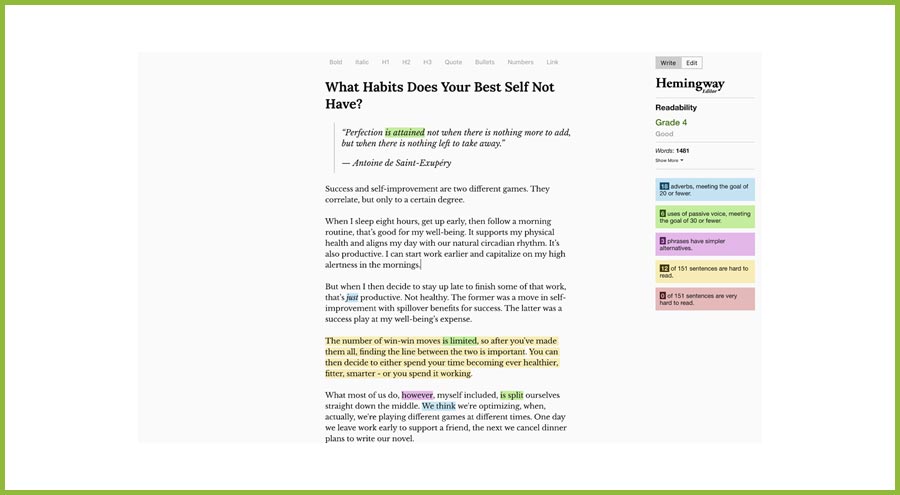 Source: bettehumans.pub
3. Mention
If you want to get alerts of any potential mentions of your brand or business, you should have one of the most amazing digital marketing campaign tools known as Mention. Before you start thinking that this is the same as Google alerts, you ought to know that it is not, as it can track and monitor over one billion sources across the web.
We also mean press releases, review sites, website forums, and blog posts as part of the billion web sources.
The backend of this tool kind of looks like an email inbox – you can add alerts for anyone mentioning your business products and services and your brand name.
Simply put, you can consolidate all these potential alerts of brand/product mentions and related things in one location.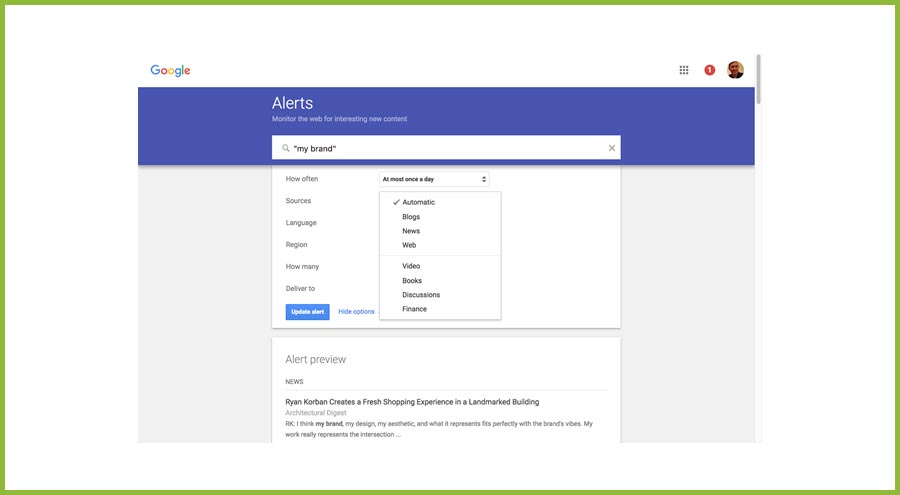 Source: mention.com
4. Rebrandly

Digital marketing requires unique and informative content, and this tool will help you shorten long-hand, perhaps even ugly, links into shorter, more brandable links. All you need to do is go to the back end of your Rebrandly account.
Rebrandley is undoubtedly one of the best digital marketing tools for beginners.
Simply click on "new link" and proceed to enter the destination URL. There are a few things that you can do; for instance, you can cloak it and choose a branded domain with your Rebrandly account – or you can also use the default Rebrandly link, enter the slash tag and create the link.
You will see that instead of the extremely long link, you will get a branded short link. Another thing that you can do is to use a QR code, generate it, and save it so that anyone who uses and scans the code goes to the link.
Source: blog. Hotspot
5. Kamua

Videos are essential to the latest and most innovative digital marketing tools for startups. That said, you can immensely benefit from the digital marketing tool of Kamua. This tool allows you to resize your video into other formats that you can then use for different social media platforms.
With Kamua, you cannot only resize your videos but also focus on the subject and crop the area. The in-built features of this marketing tool enable you to select portrait or square while cropping. Now, if there is loads of movement, and you want to ensure that you only crop the subject – you will want to turn on auto-crop.
After choosing auto crop, you can set the focal point and choose the actual area that you want to focus on. Subsequently, save the focal point, and once you are done, proceed to click on the draft render, preview it to see if you like it and if you are happy with it, proceed to click on download.
You can use the video as a YouTube short, a TikTok video, or even an Instagram reel.
6. Flaticon

If you need high-quality icons to use on your business website or YouTube thumbnails, you must check out this tool called Flaticon. It is very simple to use – just enter a search term – and browse through the suggested icons.
If you like an icon that you like, simply click on it. Simultaneously, you will be given some options regarding the potential sizes that you want to save it as.
7. Lord Icon
Another great digital marketing tool for icons is Lord Icon. What is different about this digital marketing tool is that you can download animated icons. Additionally, you can actually customize the colors.
Click on the color adjustment feature and select the color that you want – let's say you chose red; you will proceed to the option of applying. Now, you will have a red icon.
You can also make other adjustments to the icon, such as the thickness of the lines. You will see that this tool will offer you hundreds of icon options to choose from, so there is bound to be something to fit your requirements.
8. Convertkit
Do you want to start your own newsletter and build a strong email subscriber base? If the answer is yes, then we recommend using a highly-beneficial tool known as Convertkit. This must-have digital marketing tool for startups enables you to create landing pages.
It also allows you to create email sign-up forms and integrates your landing page with many other apps. You can also do email marketing, run some automation, create some automation funnels, and send out some broadcast messages.
The standard version of Convertkit allows you to sign up for free, build-up to one thousand subscribers until you feel the need to upgrade, and you can also benefit from the easy-to-use landing page builder. All you need to do is choose a template that you like – and then start editing the landing page, such as the images, headline, call-to-action, and opt-in-form fields.
Once you are done editing the landing page, you have your landing page ready to collect email subscribers.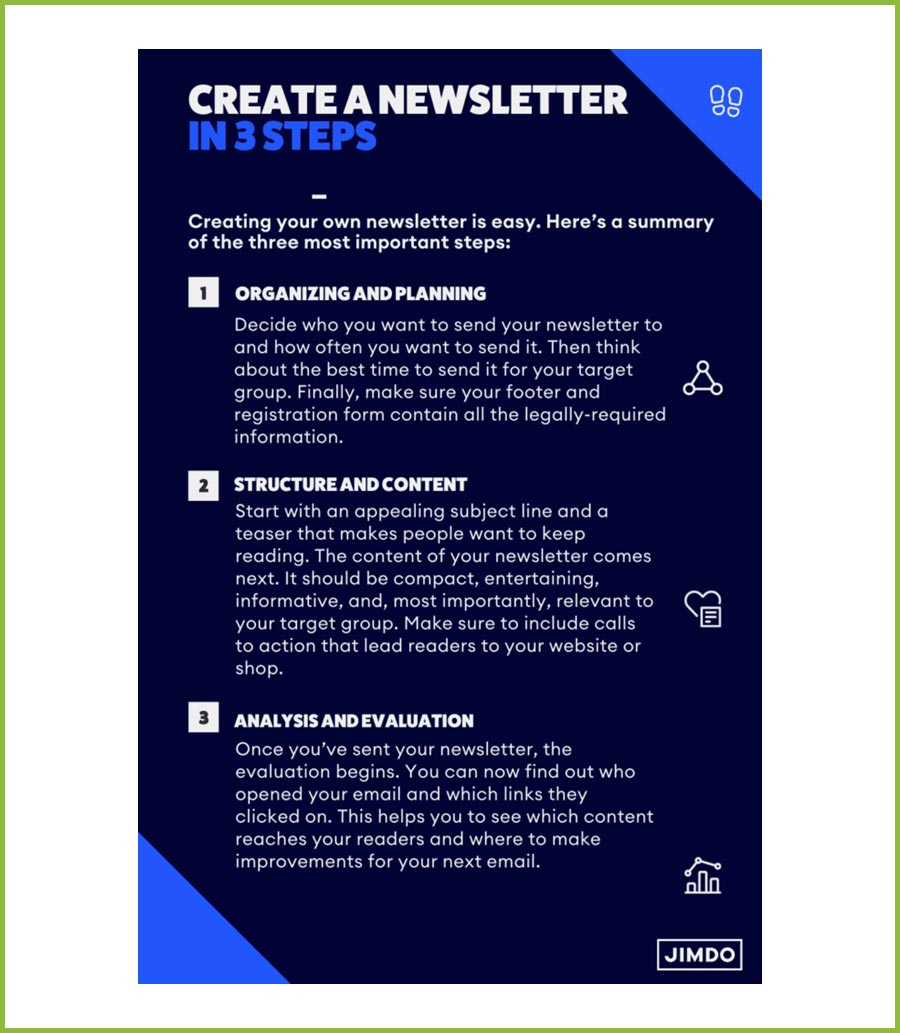 Source: Jimdo.com
9. Headline Analyzer

Another great testing tool is called a headline analyzer. Coschedule.com provides this useful digital marketing tool. All you need to do is enter the title/ headline you would like to use for your blog post/ article, YouTube video, guest post, and whatnot.
Once you have entered the headline, click on analyze, and you will see a detailed analysis of the headline, including the headline score and the SEO score. This analysis will give you a detailed indication of how things can be improved, tweaked, and optimized.
You can also immensely benefit from the suggestions, such as the suggestions on increasing the power words, boosting the emotional words, increasing the unique words, and decreasing the common words.
As you will scroll down the analysis page, you will see more information and details, such as the character count, the word count, and the type of headline your headline comes under.
So, by using this digital marketing tool for startups, you can go in there and fine-tune your potential headline. You can start with this tool to improve your headlines and get some of the best suggestions. 
Depending on your content type and target audience, having a catchy, interesting headline is sometimes all that it takes to boost website traffic and create a viral blog post.
10. Keywords Everywhere

When it comes to finding the best digital marketing tools for small business it should have something to do with keywords. This marketing tool is an amazing one – it is called Keywords Everywhere. If you search Google for any potential keyword, you will see the results. This marketing tool will show you additional results, such as traffic per month for a specific URL.
Additionally, this tool will provide you with more details on a sidebar, including trend data, SEO difficulty, off-page difficulty, related keywords linked with the search term, what people also search for, and long-term keywords, which makes it one of the essential digital marketing tools.
This is one of the best digital marketing tools for startups that is specifically useful as you get additional information that Google doesn't provide otherwise.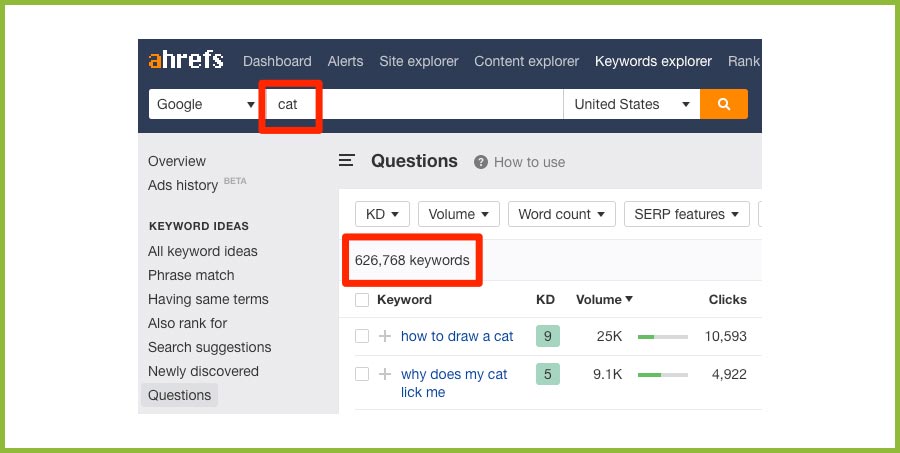 Source: Ahrefs.com
11. Hostinger

This is one of the best digital marketing resources and tools for those who want to build their business website but aren't that tech-savvy. Simply, as a newbie entrepreneur, you just might not know where to begin. This is where the digital marketing tool of Hostinger comes in.
If you opt for the premium version, you can host up to one hundred websites, and you can avail of a hundred gigabytes of super-fast SSD storage along with a free domain name at the time of signing up. Hostinger is hailed as one of the top-performing web hosts in the world.
12. Hotjar
This online digital marketing tool enables you to visualize user behavior. You can also refer to this tool as a heat mapping tool, as it enables you to visualize what people are actually hovering over and what they are clicking on.
With the heat mapping data that Hotjar provides, you can then go to your business website and make those optimizations, such as moving a call-to-action button that might be positioned too far to the right so you can move it to the left.
Another amazing feature of Hotjar is that you can see the potential journey of a user. You can trace that once they land on your website; where do they go after that. You can trace whether they click on this link or that link or do they go to that section or this section.
Once you find out the potential journey of a visitor, you can shift particular sections and links to create a high conversion for your potential website. Hotjar is one of the must-have digital marketing tools for startups.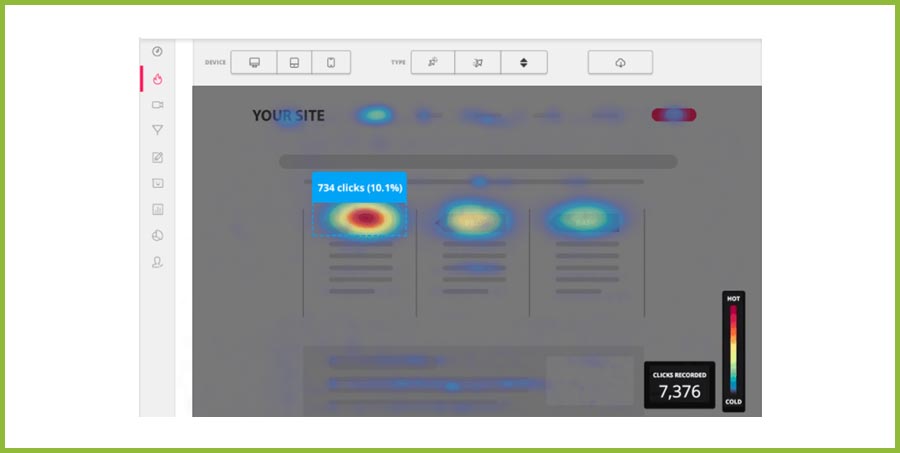 Source: webfx.com
13. Keyword Tool
If you are looking for some solid suggestions in terms of what people are searching for on places like Google or YouTube – there is a tool called keyword tool. All you need to do is to enter some keywords in the respective tab – preferably the keywords that you will be targeting for your latest blog post.
Enter the keywords and choose a location before you proceed to hit search to get the results. The keyword tool will give you some useful suggestions and ideas regarding what types of articles or videos to create.
If you opt for a tool upgrade, you will get more data, such as the potential search volume, the cost per click, the trend, and the competition. You can also search specific sites, including YouTube, Instagram, Bing, Amazon, Ebay, Play Store, and Twitter.
So, with the keyword tool – you can start with a main or seed keyword and then expand from there while finding those smaller niche keywords or long tail keywords.  
14. Inpaint
Let us talk about some digital marketing tools and tactics connected with creating and creativity, such as the graphic tool Inpaint. Have you ever wanted to remove certain objects from a photo? Well, this is what this tool is for.
You don't need to install anything – it is free to use. Also, it is quite easy to use: get your photo ready, drag and drop the photo. Now you will find yourself in the graphic editor section.
Suppose you want to erase and remove something from the photo. All you need to do is to zoom in so that you can see closer and simply start erasing while using the markup tool. Nonetheless, you can also use the lasso tool or the polygonal tool.
Simply highlight the objects you want to erase while using the tool of your choice. Subsequently, click on erase, and you will see the magic happen. Finally, zoom out to see what the final version looks like now.
This tool is very easy to use, and you can easily remove any object from any photo of yours.
15. Notion

The notion is so much more than just a note-taking digital marketing strategy tool. This digital marketing tool allows you to create and manage your projects and collaborate with other team members. The roadmap of this tool has a simple drag-and-drop mechanism.
The roadmap allows you and your team members to keep aligned with the work progress while aligning tasks and projects in three categories: not started, in progress, and completed. You can also choose from several templates.
The template designs include a roadmap, database, and meeting notes. There are quite a lot of templates offered by this tool, and you will find it easy to operate, which makes it part of the must-have digital marketing tools for startups.
16. Remove.bg

Another effective digital marketing tool linked with creativity is Remove.bg – this tool allows you to remove the background from an image or photo. Remove.bg is easy to use – just select a photo, and in just a matter of seconds, you will see that it will remove the background.
Once you have removed the background, simply download the final version. Also, if you want a high-quality version, you will need to pay for it. Once you have downloaded this tool, you can sign up for the subscription plan or pay as you go.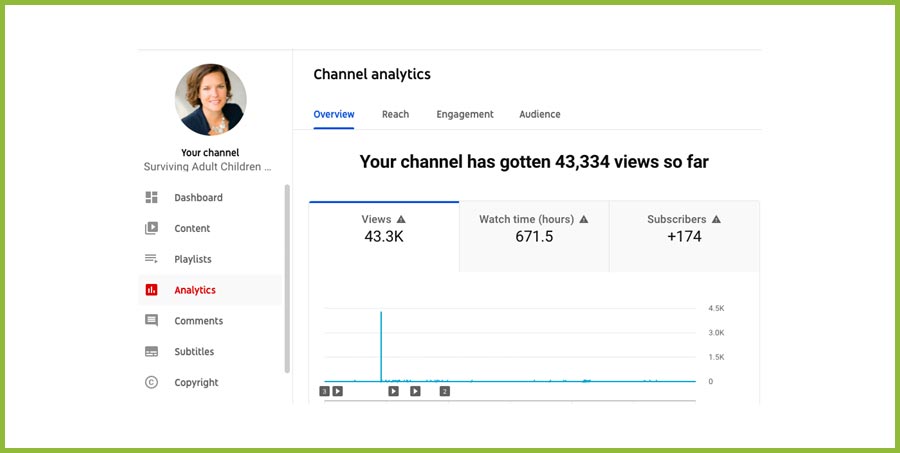 Source: blog.hotsuite
17. Goodbye Metrics
If you are a YouTube creator, you can immensely benefit from the best digital marketing tools and channels. So, this digital marketing tool will basically eliminate the metrics, the analytics, the numbers of likes on a particular video, and so on.
Now before you start thinking about the whole point of the act of not seeing your metrics – let us tell you that this is one of the traps that potential creators fall into.
Potential creators fall into the trap also known as the comparison syndrome, where they compare the stats of their latest videos amongst the sea of other YouTube creators that have posted their videos.
This comparison syndrome can lead to a lack of motivation and all the potential hard work and the many hours that one puts into creating a video and not seeing the results they anticipate.
That said, if you are an aspiring YouTuber or wherever you are on YouTube – by using Goodbye Metrics, you can enable the extension, and all the views on the view count will be gone as well as the number of subscribers.
By clicking on the Goodbye Metrics extension, you can also stop seeing the latest video performance, channel analytics, the latest comments, and other data. If you don't want to hide all the metrics, you can individually enable those metrics that you do want to see.
The bottom line is that by using this digital marketing tool, you can focus more on creating rather than following the algorithm and feeding what YouTube wants.